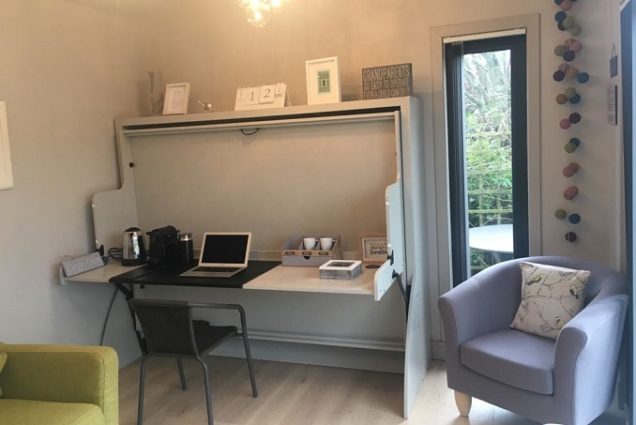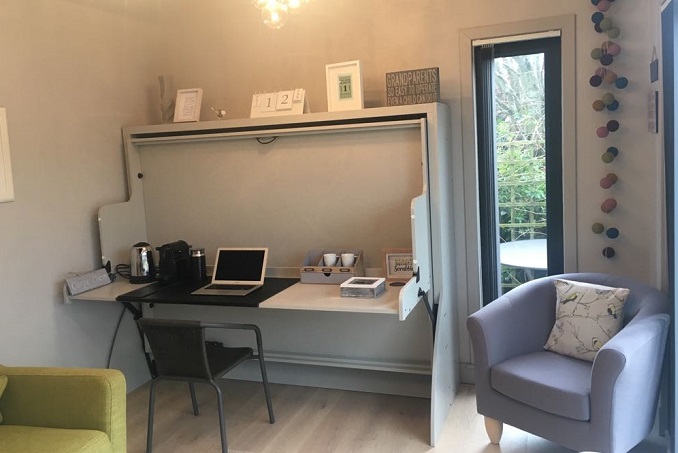 Garden rooms are an increasingly popular way of adding more living space to a home without all the expense and upheaval that comes with having an extension. Whether it's simply a bit of extra space for a games room or 'man cave', or whether it's to accommodate guests or for a home office – a well-made, insulated room that you can use all year round is a great addition to any home.
But what if you could get two rooms in one?
Perhaps you're thinking of a garden room for a home office but could also do with the extra space to accommodate guests from time to time. A StudyBed allows you to do both!
Combining a large desk and full-sized bed all in the same compact footprint a StudyBed gives you a practical space for working and a comfortable bed for guests even in a modest sized garden room.
Here at StudyBed we've had a number of installations in garden rooms demonstrating how well the two work together.
This bright and spacious office quickly and easily converts to a welcoming guest bedroom:
Our matching furniture makes the most of every inch of this garden room:
StudyBeds even work well in shepherd huts – the space-saving design means that a large desk and a double bed can fit into this tiny space:
If a garden room could be for you, you can find out more and get some ideas on what you could achieve by checking out Green Retreats, the original garden room company here.
You can find out more about StudyBeds here.