StudyBeds Proving Popular with Down-Sizers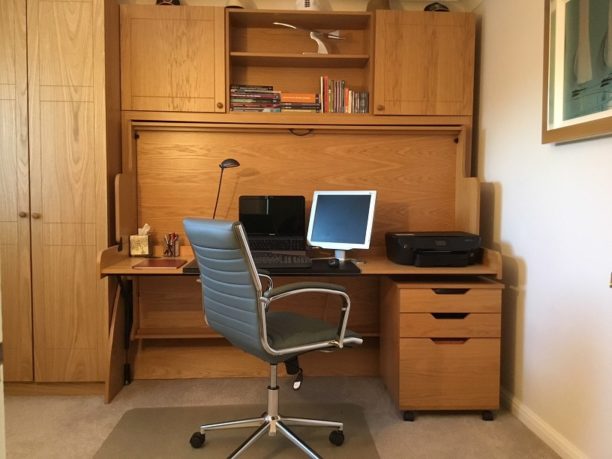 With an ever-ageing population more and more people are choosing to down-size their homes and move to purpose-built retirement communities. A great way to maintain independence and combat loneliness in later life, these luxury developments offer a lot of positives, however, one of the big drawbacks for residents is having to adjust to a much smaller living space than they had before.
A growing number of savvy down-sizers are tackling this issue with a StudyBed. Combining a huge desk and standard sized bed in the same compact unit a StudyBed adds flexibility to a room – the same room can be used as a study or craft room AND a comfortable guest bedroom even if it would otherwise be too small.
The StudyBed Company have had a steady flow of orders from customers moving to retirement village developments over the last few months including Pincombe Court in Devon and Audley Inglewood in Berkshire but by far the biggest success has been ExtraCare's Hughenden Gardens Village in Buckinghamshire with StudyBed sales now well into double figures here.
Opened in 2018, Hughenden Gardens Village is situated just minutes from StudyBed's largest showroom based in High Wycombe, Buckinghamshire, which has proved to be invaluable to The StudyBed Company. Having the full range of StudyBeds available to view on their doorstep Hughenden residents have been able to see the benefits for themselves and the sales keep on coming.
Mike White, a Hughenden resident who purchased a StudyBed sums it up:
"We are thrilled with our StudyBed. We downsized, and I was fearing the loss of my study. But now I have a beautiful study with a very spacious desk and bookshelves aplenty. And then in 5 seconds it's a super comfortable bed. Your product has really helped our downsizing project to be a success."
Ben Berry, the owner of The StudyBed Company said:
"As a company, we have been going for over 10 years and sold over 8,000 StudyBeds, but certainly the Retirement Village market is one that appears to currently be rapidly expanding and for which our product is well suited. The down-sizing residents all really love them, as it gives them extra flexibility they didn't think possible, the site developers like them as it can assist in helping with the property sale, and we love it, as we get to sell more beds, a real WIN-WIN-WIN situation."
As the retirement housing industry continues to prosper in the UK the demand for clever, space-saving solutions like StudyBeds will continue to increase too.
You can find out more about StudyBeds here or alternatively, if you'd like to enquire about a StudyBed for a show home please click here.
The perfect solution to a downsizing dilemma!

"We're absolutely delighted with the StudyBed and very glad that we also bought the top box and under-desk set of drawers. The end result looks really good. The ingenious design still amazes us and all who see it! A very small room has been transformed into a very useful working area that also doubles as a guest bedroom."

Joan Tanguy, Jersey.

A great buy….

"We love the bed, both as a desk and a very comfy bed. It has been a great buy and much needed as we 'downsized' this year. Thanks for a great product and great service."

Geoff Clay, Yorkshire.

Money well spent…

"Having moved from a four-bedroom house after 40 years to a two-bedroom apartment a considerable amount of downsizing has had to take place. The Majestic StudyBed has achieved our aim – achieving better use of our second bedroom without absolutely filling it with furniture! More space, an excellent desk and a double bed – what more could one ask for? My wife and I could not be more delighted – it is money well spent."

Mr Fillingham, Surrey.

It has made our downsizing much easier to live with!

"We are so pleased with our purchase of a StudyBed. We have been giving demonstrations to our friends and relatives to advertise how good it is. It has really made our own downsizing from a three-bedroom house to a one-bedroom bungalow much easier to live with."

H. McConville.