Large desk for Home-Working
extra bed and increased floor space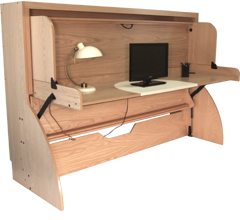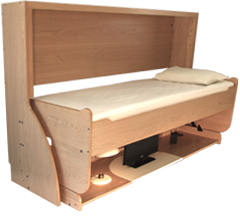 Free standing
Top quality Real Wood veneer
5 year guarantee
Matching furniture and accessories
Delivery and installation anywhere in the UK
It is very robust and designed for everyday use.
It is a clever, neat solution that makes the most of confined living spaces and is perfect for that room that needs to be used as both a study and a bedroom.
George Clarke, TV architect and presenter gives his opinion on the StudyBed.
Our full range of StudyBeds and matching furniture can be found in the 'Models and Pricing' section here, where you can click on each product to view more detail.
Please call or email us with any queries or indeed when you are ready to order on 01844 214484 or enquiries@studybed.co.uk.
If you would like to view a StudyBed details of our showrooms can be found here.

1. The StudyBed – Functional Home Office


2. The StudyBed – From a Desk to a Bed in just 3 Seconds


3. The StudyBed – The Perfect Guest Bedroom
What Our Customers are Saying
..another please
I purchased a study bed back in 2015 from you! It has served me well and I would like to buy a second one
Louisa Tarn ( Sep 2020)
..another please
I purchased a study bed back in 2015 from you! It has served me well and I would like to buy a second one
Louisa Tarn ( Sep 2020)