CASE STUDIES at Schools and Universities
Portsmouth University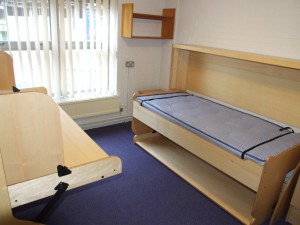 Portsmouth University were one of the first Universities to make use of StudyBeds as part of their 'void strategy' and achieved this through the use of twinning medium sized rooms; these proved very popular with International students who were keen to share but at a lower room rate
26 StudyBeds were installed in September 2009 and they have performed faultlessly ever since
Sheila Daly, Head of Residential Services says, "You get flexibility and quality combined. When we considered the cost of each room void, the investment was clearly worthwhile"
Nottingham Trent University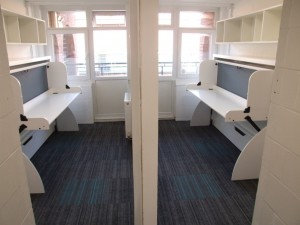 Hampden Hall, the high quality Halls of Residence for Nottingham Trent University recently underwent a major overhaul to provide even better accommodation for its students. The Halls consist of individual community units, each with 6 separate bedroom/study areas which are inevitably, somewhat spatially challenged. This picture may look like a mirror image, but actually shows how effective the use of StudyBeds can be in 2 very small rooms. The transformation created by use of a StudyBed has been amazing and provides the lucky students with a really comfortable bed, and absolutely HUGE desk space.
Falmouth University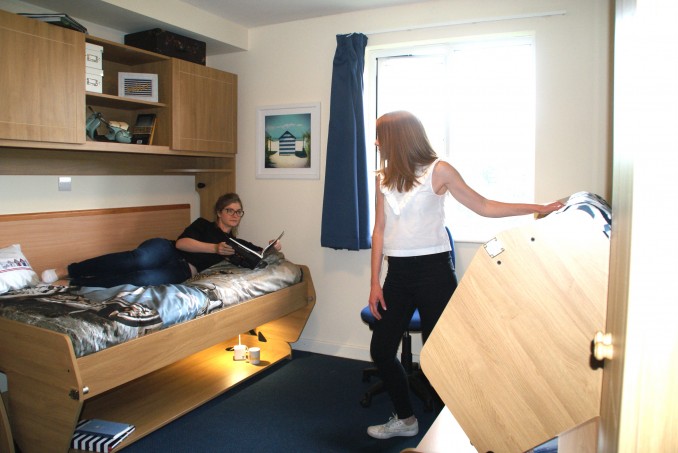 With an urgent need to rapidly create more bed spaces to suit the ever growing demand of this highly desirable establishment, Falmouth discovered the quick and easy and cost-effective solution by installing 96 StudyBeds on a twinning basis in the Summer of 2014, into rooms which had previously been used for sole occupancy; this strategy not only resolved their bed space shortfall issue, but allowed for increased revenues from the same space whilst giving students the opportunity to rent their rooms for less, a real WIN – WIN scenario
Such was the success of this installation and popularity with the students, that a further 117 StudyBeds were ordered and installed in Summer 2015, and this programme has continued to be rolled out, with another 416 StudyBeds installed in time for the fresh 2016 intake
Oliver Lane, Accommodation Services Manager had this to say, "StudyBeds were an obvious solution to our increased demand for accommodation, allowing us to offer an innovative and attractive shared room option to our students.  The StudyBed team offered a high level of professionalism and customer service during the project, starting on their first visit to site when we discussed bespoke design, through to the completion of the installation program. The feedback we have received from students using the StudyBeds, and prospective students visiting campus, has been very positive."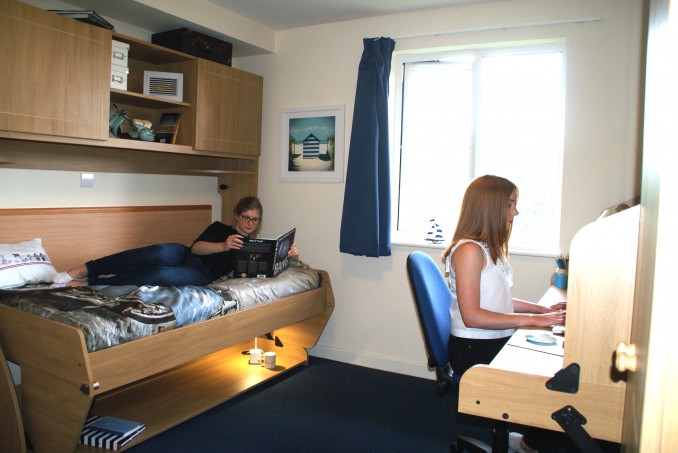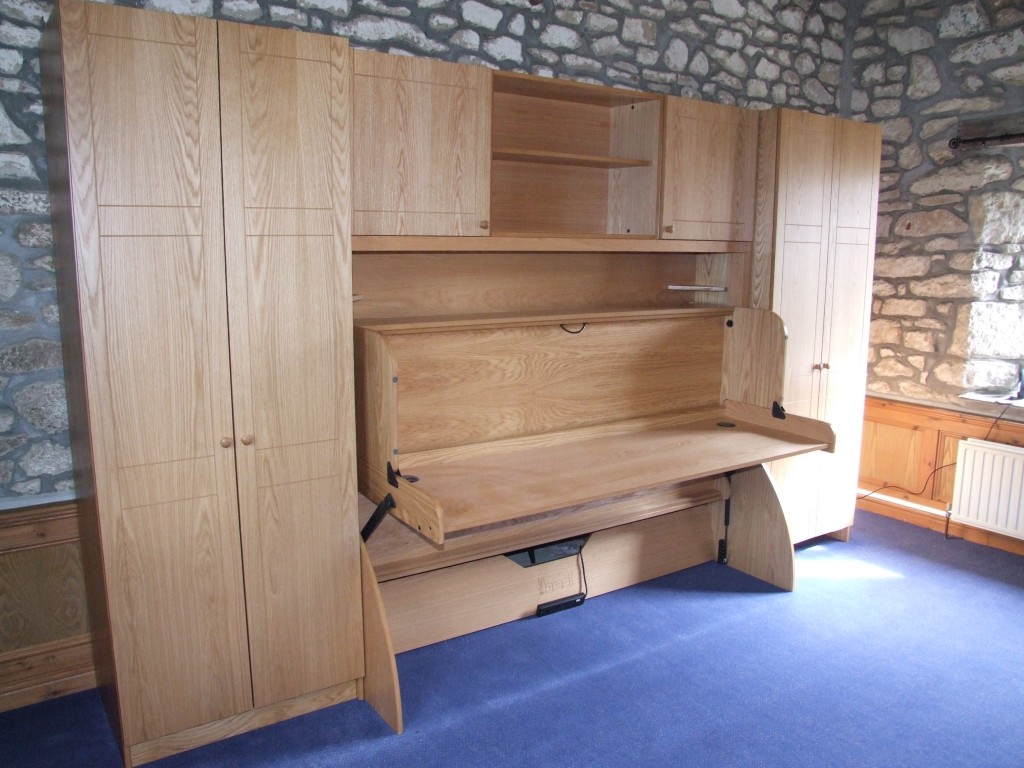 Exeter Library Lofts
A very high end conversion by Burrington Estates ( and now in the Empiric portfolio) of the old library in Castle St.  25 4ft small double StudyBeds were installed in September 2015, just in time for the lucky incoming students.
LSE
In 2015 LSE ordered 42 StudyBeds as part of their ongoing refurbishment programme, and these have proved particularly useful in doubling up as extra sleeping facilities for Summer lets. We were able to supply these in a finish to match their existing colour themes. The success of this product has resulted in an order for a further 54 StudyBeds to be installed during 2016 plus a further 44 in 2017/18 year.
University of Leicester
In their fabulous Halls of Residence, some overlooking the Botanical Gardens, we installed 15 StudyBeds in September 2016, some to provide instant extra bed spaces in twinned rooms, others to make more challenging single rooms become instantly more spacious. These have proved a great success and a further 8 have been added for the 2017 intake.
University of Brighton
An initial trial of 8 StudyBeds installed in 2016 has received very positive feedback so far.
Lancaster Uni
A trial purchase of 4 StudyBeds for twinning purposes has so far received great feedback.
Holyport Academy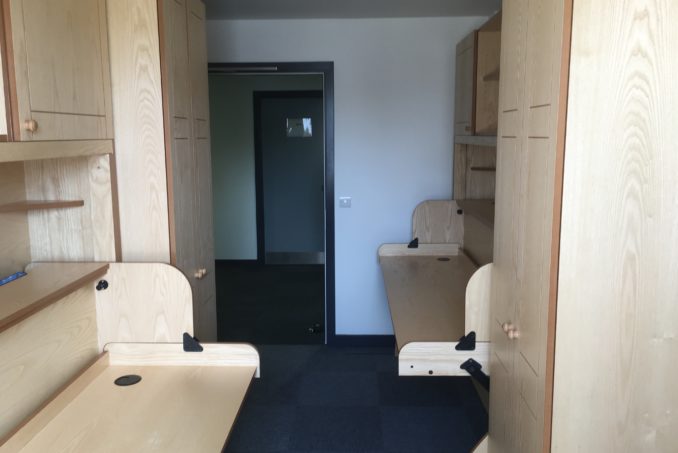 This relatively new school required a workable twinning solution for their new intake of 6th form boarders; StudyBed provided the solution, and Holyport commented:
"We have now taken delivery of 48 StudyBeds as well as matching furniture. Our main reason for choosing the StudyBed option was to allow us to successfully twin relatively small bedrooms in a way that not only provided necessary work and sleep facilities for our students, but also helped create a division of personal space within the rooms.
The product has been extremely well received by both
​students and school staff alike, and its robust quality, backed by a 5 year warranty is very reassuring. The StudyBed Company have been thoroughly professional and efficient throughout the entire ordering and installation process, and are a delight to deal with. We are looking ahead already to our next phase of expansion where we hope StudyBeds will provide part of the solution to our continuing successful growth as a ​College​."
FARLINGTON SCHOOL
A very last minute request and the service we received was second to none. The whole process of ordering, delivery and set up were all first class; professional yet friendly and extremely helpful. I certainly would use your company again and have no reservations at all in recommending you to others. We are delighted with the beds and more importantly so are our girls too!
Sue Powell   Head of Boarding
BATH ACADEMY AND MONKTON COMBE SCHOOL have now taken 12 StudyBeds between them.
FOR YOUR FREE TRIAL, call Ben Berry on 01844 214484 or email ben@studybed.co.uk